Dawn Staley has become coaching trailblazer for black women (USA)
The state of South Carolina was in basketball heaven earlier this month as the University of South Carolina's basketball team by both men and women were among the final four teams left in their respective NCAA Basketball Tournaments. However, it was only the South Carolina women's basketball team that was able to achieve the ultimate in success in winning the entire Women's NCAA Basketball Tournament and bring a national title to Columbia, South Carolina. 
While that team was led on the floor by the talents of star forward A'ja Wilson, the heart and soul of the team comes from its accomplished head coach Dawn Staley. By adding a national championship to her resume, Dawn Staley has become a strong example of how the leadership of black women can excel in the coaching ranks.
In 2013, Dawn Staley was enshrined in Naismith Memorial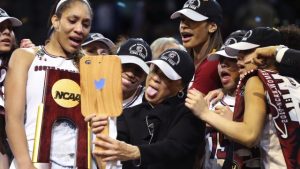 Basketball Hall of Fame. Her great playing career included being a two-time National Player of the Year in college at the University of Virginia. She was also an important figure and a playmaker for the talented U.S. women's basketball teams of the 1990s and early 2000s, who earned three Olympic gold medals. Staley was also among the faces of the inauguration of the WNBA as one of the most recognizable women's basketball players in the world at the time. She lived up to the hype as a five-time WNBA All-Star. However, Staley's coaching resume is becoming impressive itself.

READ FULL STORY – thyblackman.com


[shareaholic app="share_buttons" id="20890111"]